Cover Widths

Height (Min.)

Pitch (Rib Spacing – Center to Center)

36 in
1 1/2 in
6 in
The 1 ½" form deck is made from high-strength, full hard steel and is used as a permanent steel base for poured reinforced concrete floor slabs. Form deck provides a strong efficient section for forming slabs while giving lateral stability to structural members.
D-MAC Industries provides world-class customer service and product that's available for pick up or shipped and delivered the same day. We supply high-quality inverted form deck products to structural steel fabricators and general contractors across America who depend on us to have the product they need when they need it. Learn more about our affordable and high-quality 1 ½" form deck products and contact us to see if our capabilities meet your needs.
Why Choose D-MAC Industries for 1 ½" Form Deck Products
We pride ourselves in providing prompt orders that are delivered the same day to meet your on-site specifications. In fact, 90% of our orders are picked up or shipped the very same day you request a quote!
What sets us apart from other form deck providers in the United States is our personal service by knowledgeable personnel. We understand the significance of speaking to a real person, so when you give us a call, you'll never be routed to an automated system. When you give us a call, you'll never be routed to an automated system. One of our friendly team members will help you find the right form deck for your job and offer same-day shipping or pick up from one of our facilities.
We are dedicated to producing high-quality products to our customers, and shipping our form deck products quickly to your job site, so your project can reamin on time and on budget.
D-MAC Industries' 1 ½" Form Deck Product Specifications
The 1 ½" form deck from D-MAC Industries provides a cover width of 36" and features a rib spacing of 6". This form deck is available in 22, 20, 18, and 16 gauges.
Our non-composite form deck products are available in a galvanized finish, which is ideal for permanent applications. The galvanized finish is highly desirable in high moisture atmospheric conditions and should always be used as a structural support for lightweight insulating concrete fill. Each 1 ½" form deck is coated to conform to ASTM A924 G-60 or G-90.
1 ½" Form Deck – Quality Assurance
Each of our form deck products, including our 1 ½" form deck meets or exceeds the Steel Decking Institutes requirements. Our staff is dedicated to producing high-quality form deck products and will fulfill every order on-spec, guaranteed.
Find High-Quality Form Deck Accessories
D-MAC Industries is your most convenient source for form deck accessories. We have all of the accessories needed to get the job done. Our team is standing by ready to make recommendations on the form deck products you need including end and side closures, pour stops, deck plates, rubber cell closures, and more. Shop our high-quality form deck accessories online.
Is the

1 ½"

Form Deck Right for My Project?
Choosing the right form deck for your project will largely depend on your project's needs and expectations. The 1 ½" form deck is ideal for inverted applications. If you are not sure which form deck is necessary for your project, the team at D-MAC Industries will be happy to help. We can help you match an existing form deck or find a new form deck product that meets your needs. Use our online guide to match the dimensions of your current deck, which allows you to easily identify your steel deck with images and common manufacturer designations.
Storing and Handling 1 ½" Form Deck Products
It's important to store your 1 ½" form deck correctly so that it is protected from corrosion, deformation, and other damage.
All form deck products should be stored off the ground with one end elevated to allow for proper damage. Bundles must be protected against condensation with a ventilated waterproof covering. Decks should be covered with a waterproof tarp to be protected from snow, salt, and water.
Galvanized products are stored outside and may have oxidation on the surface. It's important to note that this will not affect the structural integrity of the steel, however, if you are using a 1 ½" form deck for decorative use, you'll want to take proper precautions to minimize oxidation.
Tips for Installing 1 ½" Form Deck
Installation of a 1 ½" form deck is quick, easy, and affordable. D-MAC Industries always recommends that an experienced and qualified worker installs a 1 ½" form deck.
For the best outcome, form deck shall be placed in accordance with approved erection drawings and deck sheets should be butted over supports. Install deck ends over supports with a minimum end bearing of 1 ½" or as indicated on the erection drawings.
If you have any questions regarding the installation of the 1 ½" form deck, the team at D-MAC Industries will be happy to help.
Contact D-MAC Industries for a Fast and Easy Quote on 1 ½" Form Deck
If you are looking for quality form deck products that are shipped quickly, contact the team at D-MAC Industries. We have over 30 locations in the United States to better serve our customers. We offer quick shipment of form deck, prompt deliveries, and no-hassle pickups, so you can get the products you need when you need them. Plus, with an experienced team with over 30 years of experience in the steel decking industry, we are able to answer each of your questions and assist you in a timely manner.
Get in touch with a friendly D-MAC Industry expert for your form deck needs. You'll see why so many builders, steel fabricators, and roofing contractors trust us for their steel deck needs. Contact our team using our convenient online form or give us a call today for a fast and easy quote.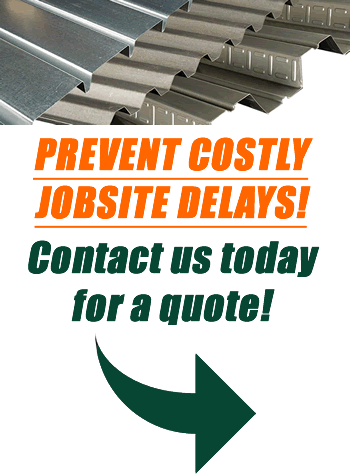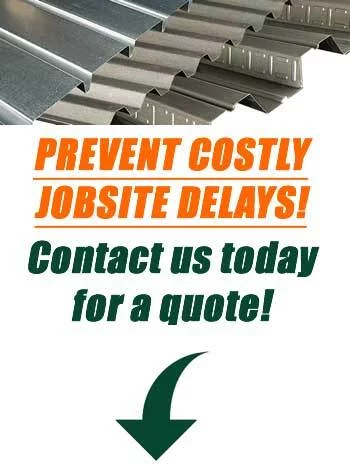 "*" indicates required fields