1.3C
CF 1 3/8
EHD
TF125
UFX
Cover Widths

Height (Min.)

Pitch (Rib Spacing – Center to Center)

32 in
1 5/16 in
4.57 in
1-5/16" Form Deck (Extra Heavy Duty), Metal Floor Deck
Form deck is used as an economical form to support concrete slabs during construction and is often used in floor, roof, and specialized construction applications. Our 1-5/16" Form Deck is used in instances where 0.6"form decks and 1" form decks are not adequate and can be applied to any type of structural support system including steel beams, bar joists, concrete beams, and more.
D-MAC Industries provides high-quality 1-5/16" form deck to structural fabricators and contractors throughout the United States. Learn more about our 1-5/16" form deck products and their applications and contact our team for a quick and easy quote.
Why Choose D-MAC Industries for 1-5/16" Form Deck
D-MAC Industries has been the leading supplier of 1-5/16" form deck for decades. With over 30 locations in the United States, we provide the very best service along with reliable, prompt same day deliveries or pickups. In fact, 90% of our orders are picked up or shipped the same day!
Our team has the experience you need to answer any questions regarding storing your form deck and installation. Not sure if the 1-5/16" form deck is right for your project? Our experienced professionals can help you match an existing form deck or choose the right form deck for your project.
Getting a quote is quick and simple with D-MAC Industries. Simply fill out the form or give us a call. You'll never have to worry about reaching an automated system when you call us. We provide personalized service for your order of 1-5/16" form deck or any other product.
1-5/16" Form Deck Product Specifications
The 1-5/16" form deck provides 32" of coverage and features a rib spacing of 4.57 inches. Our 1-5/16" form deck is available in 20, 22, and 24 gauges to meet your project's needs. Every 1-5/16" form deck from D-MAC Industries comes in a galvanized finish, which is ideal for a permanent application, and must be used for those roof deck systems where form deck is used to carry a lightweight insulating concrete fill.
How is Steel Deck Made and Shipped?
Steel deck is created by cold forming structural grade sheet steel into a repeating pattern of parallel ribs. The strength of the panels is a result of the shape of the ribs and the material properties of the steel.
When receiving the 1-5/16" form deck, there must be proper access to the structure for the deck delivery. The material should be checked as it is received, and bundles should be counted by the bill of lading.
Steps for Properly Storing 1-5/16" Form Deck
Once you've received your form deck products, the deck bundles should be stored off the ground, with one end elevated to prevent drainage. Bundles should be protected against condensation and moisture with a ventilated waterproof covering. Bundles should be stacked so that there is no danger of tipping, sliding, rolling, or shifting of material damage. Properly secure the tarp to prevent blow-off and protect the form deck product.
If galvanized form deck products are stored outside, you may notice some oxidation on the surface. This will not affect the structural integrity of the steel but is important to note if your application requires decorative use. Please inform the D-MAC Industries team if you intend to use form deck in open ceiling applications and we can help you take precautions to prevent oxidation for an aesthetically pleasing appearance.
Form Deck Installation
We always recommend that the 1-5/16" form deck be installed by qualified and experienced workers. If you have questions about installing this extra heavy-duty form deck, one of our valued team members will be ready and happy to assist you. It's important to check erection drawings to land deck in a proper position and orientation when installation 1-5/16" form deck.
Finding Accessories for your 1-5/16" Form Deck
D-MAC Industries proudly supplies the accessories you need to complete any form deck project. From supply end and side closures, rubber cell closures, deck plates, and pour stubs, we have it all, so you can get all the materials you need to complete any project. Not sure which deck accessories are right for your 1-5/16" form deck project? Allow our team to assist you.
Contact D-MAC Industries for a Fast and Easy Quote on 1-5/16" Form Deck
With D-MAC Industries, you'll enjoy prompt deliveries, quality products, and world-class customer service. It's why so many contractors and structural steel fabricators count on us for their form deck needs. If you need a non-composite floor deck for your next project, contact the dedicated staff at D-MAC Industries. We're committed to your complete satisfaction and ensuring your project stays on time and on budget. To request a fast and easy quote, and learn more about our capabilities, use our online contact form or call us. We look forward to doing business with you!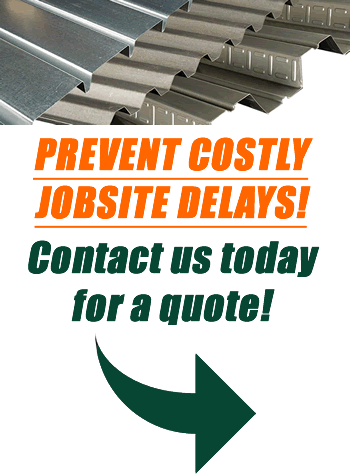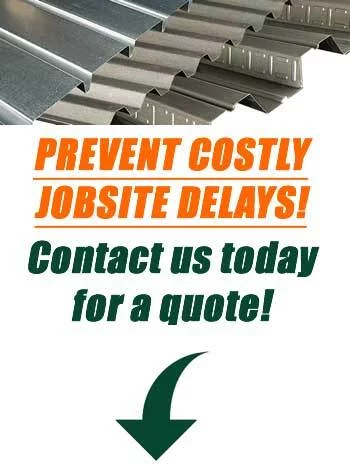 "*" indicates required fields