N DECK (DEEP RIB)
STEEL ROOF DECKING DIMENSIONS & INFO
Type N roof deck is the "original" designation for this metal deck profile, though more recently the Steel Deck Institute has promoted the more descriptive name, "Deep Rib Roof Deck", or "Type DR" metal roof deck.
As for which finish is more optimal, prime painted grey over bare steel is the most economical finish available for Type N metal roof deck. This finish typically provides adequate temporary protection to the base metal during construction and will protect the base steel indefinitely in a properly enclosed, dry interior environment.
On the other hand, if the interior environment is more aggressive, or if greater corrosion protection is required during construction, then a galvanized coating in either G60 (0.6 ounces of zinc per square foot of metal) or G90 (0.9 ounces of zinc) is typically recommended.  Government projects usually require a G90 galvanized finish.
To help prevent field paint adhesion issues with galvanized deck, it's best to use a galvanized and prime painted finish when a galvanized metal N roof deck is to be field painted.
A white primer is also available for the underside of the N roof deck, but the lead time may be as long as twelve weeks.  As with all white-bottom roof decks, if a field coat of paint is not going to be applied, much greater care must be taken to ensure that the steel roof deck is not exposed to moisture before it is installed and covered in a dry environment. In fact, if a white bottom finish is intended to be left exposed, the best finish to use is galvanized (G30 or heavier) and painted white.
Type N roof deck is most readily available with material thicknesses defined by the even gauges 16, 18, 20, and 22.  These correspond to design thicknesses of 0.0598", 0.0474", 0.0358", and 0.0295", respectively.  While metal N decks can be produced in any material thickness between 16 and 22, defining an "odd" or "special" gauge will make the deck much more difficult to source.
Maximum Construction Span
No. of Spans

Deck Type

Max Const. Span

 1
N22
N20
N18
N16
 11'-7"
13'-2"
14'-7"
18'-1"
 2 or more
 N22
N20
N18
N16
 12'-0"
13'-5"
15'-10"
18'-1"
What is Type N Roof Deck?
Type N Deep Rib Roof Deck is twice the depth of 1.5" Type B.  This additional depth provides Type N the strength to span roughly twice the distance of Type B in the same gauge.  The ability to span 10 feet or more makes Type N roof deck ideal for applications with larger distances between supports, and is common in canopies and in structures with large open spaces.  Structural members required to span large open spaces, like those found in auditoriums and gymnasiums, are deep, heavy, and expensive.  Using these large members in conjunction with Type DR roof decking allows the designer to use fewer primary supports by spacing them further apart.
Sound control is often a challenge in large open spaces, but acoustical Type N deck (designated as Type NA), which is standard Type N deck produced with perforations in the webs and combined with fiberglass insulating batts that are field installed in the ribs, absorbs up to 70% of the sound that reaches it.
And although Type N deck is not as widely used as Type B deck, it is the deep deck product of choice for applications like canopies, gymnasiums, auditoriums, and any other large open spaces.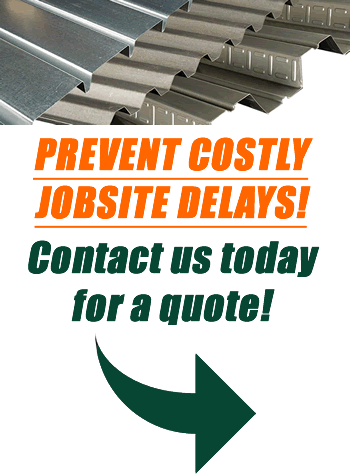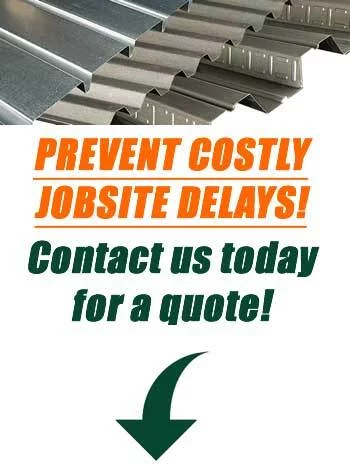 "*" indicates required fields