At D-MAC Industries, we know how important it is for our customers to find high-quality roof and floor deck accessories like column closures to complete their projects on time. Fortunately, D-MAC Industries provides all metal deck and deck accessories.
One common floor deck accessory is the column closure. Column closures, also known as flat plates, are used to close off an area around a column before the concrete is poured.
High-Quality Deck Accessories from D-MAC Industries
Along with our column closure deck accessories, D-MAC Industries has a large inventory of key deck accessories that help complete a steel deck system. Some of our high-quality deck accessories include flat plates, girder fillers, sump pans, ridge and valley plates, pour stops, and more. Decking accessories are intended to be used to finish the job to prep the area for concrete or roofing.
Roof and Floor Decking Products Shipped Fast
As your go-to source for roof and floor decks and high-quality decking accessories, we supply a wide variety of roof and floor decking products.
We offer four popular types of steel roof decks including Type A Narrow Rib, Type B Wide Rib, Type F Intermediate Rib, and Type N Deep Rib. You will find that each of our steel deck products is available in a number of different gauges. Our floor decks are a fast and economical solution for builders and contractors. You'll find convenient same day steel floor decks available in 1 ½" metal floor decking, 2" metal floor decking, and 3" metal floor decking. Finally, our non-composite form decks come in four sizes and have varying load capacities.
Not sure which roof or floor deck product is right for your needs? Our specialists are waiting to assist you! We pride ourselves on offering the very best personalized service.
Why Choose D-MAC Industries for Column Closures and Metal Deck Accessories
D-MAC Industries is your single source supplier for roof and floor deck and all deck accessories. Along with our high-quality roof decks, form decks, and non-composite form decks, we offer floor deck accessories to meet your steel deck project requirements.
Over our 30 years of experience, we have mastered our process and offer short lead times and fast deliveries. We are hyper-focused on helping you get your job done fast. You'll find that our superior customer service and convenient same day steel deck delivery set us apart from other metal deck suppliers in the country.
We know how important it is for our clients to get a steel deck fast to avoid costly job delays. That's why our slogan "same day steel deck" is more than just a mantra – it's our mission!
Contact D-Mac Industries for a Quote on Column Closures & Metal Deck Accessories
Getting a quote from D-MAC Industries is fast and easy. Simply complete our convenient online form or give one of our representatives a call. We offer personalized service and you'll never be routed to an automated machine.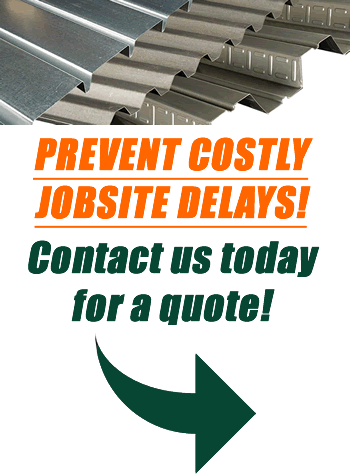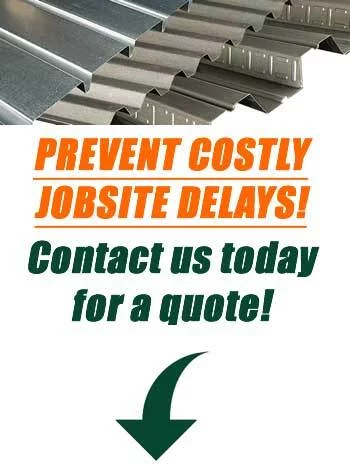 "*" indicates required fields