3″ Composite Corrugated Metal Floor Decking
3VLI
3.0 CD
CFD3
3″ LOK Floor
SB300
Cover Width

Height (Min.)

Pitch (Rib Spacing – Center to Center)

36 in
24 in
3 in
12 in
3" Composite Floor Deck
D-MAC Industries provides 3" composite floor deck for public and private sector applications. Once the concrete cures within the vertical ribs, the composite floor system provides superior strength and durability, making it ideal for multi-level buildings like hospitals, garages, high rises, and more.
3" composite floor deck requires more concrete but spans greater distances compared to shallower composite floor decks. At D-MAC Industries, we recommend pouring a minimum of 2" of concrete over the ribs of the deck for a total metal deck floor slab thickness of 5".
If you are in need of a composite floor deck provider, you'll want to work with experts in the industry and a company that can handle all your needs. D-MAC Industries is a family owned and operated business with over 30 locations across the United States. Over our 30 years in business, we have built a strong reputation among builders, contractors, and architects for our reliability and service. Plus, with same day delivery, you can get the products you need swiftly! Learn more about our 3" composite floor deck and contact us for a fast and easy quote!
3" Composite Floor Deck Applications
Our 3" composite floor deck is used where a composite floor deck is desired. Finished with a galvanized coated steel, our composite decks ensure your floors are safe and sound.
Our 3" composite floor decks are primarily used for pouring concrete slabs and provide a permanent, strong application. You'll notice that our 3" composite floor deck has embossments that grip the concrete and are typically reinforced with rebar or wire mesh to create a strong bond with the concrete floor. Our floor decks ensure there is a permanent concrete form and eliminates the time and cost of wood forming, making it an efficient process. These are typically used in low rise and high rise commercial buildings including bridges, slab infills, porches, and parking garages.
Options for 3" Composite Floor Deck
The 3" composite floor deck is available in 16, 18, 20, or 22 gauges and is finished in a galvanized steel for superior strength and durability. Galvanized steel is recommended for corrosive and high moisture environments.
This composite floor deck is available in either a 36 or 24-inch cover width and features a pitch of 12 inches. If you're not quite sure which composite floor deck is right for your needs, one of our specialists will be happy to assist you.
At D-MAC Industries, we strictly adhere to industry guidelines. Each of our composite floor deck products, including our 3" composite floor deck, meet the standards for engineering, design, manufacturing, and usage of steel decks. Our 3" composite floor deck is comparable to the following brand/company designations:
3″ LOK Floor
0 CD
3VLI
CFD3
SB300
Rest assured, our high-quality products adhere to the UL standards for 3" composite deck. Our composite floor decks are perfect for multi-rise buildings, including both low rise and high-rise structures. They provide excellent acoustic performance, fire protection, and contribution to thermal mass.
Find the Composite Floor Deck for your Project
Not sure which composite floor deck you need for your project? Or, are you trying to match an existing composite form deck, such as 1 1/2″ composite floor deck or 2″ composite floor deck on your project site? Allow our team to assist you!
While we have specialists standing by to answer your questions, we also have a handy Fabricator Magnet, which allows you to easily identify your steel deck with images and common manufacturer designations. It makes identifying existing composite deck simple and hassle-free. To find the composite deck that meets your needs, we will take into consideration the depth of the metal deck floor slab, the weight of the concrete, and the support of the spacing. Fill out the form to receive your D-MAC Fabricator Magnet or contact one of our experts for immediate assistance.
Working with D-MAC Industries
D-MAC Industries is the leading steel form deck supplier. With over thirty years of experience, we are proud to handle all your form deck needs. When you choose to work with us, we will guide you through the process and work on the specifics of your order, including timeline and product requirements. We offer prompt and easy quotes and same-day delivery, so your project can stay on time and on budget.
What sets us apart from other composite form deck providers is our commitment to our customers. Over the years, we have built strong relationships with builders, architects, and contractors, because of our commitment to excellence. Along with providing high-quality products, we pride ourselves on our unmatched experience and industry knowledge.
If you need to discuss the specifications for your project, one of our team members will be able to help. We believe in personalized service and will not send you to a voice recording. Allow us to demonstrate our personalized service and go above and beyond to fulfill your composite deck needs!
Get a Fast and Easy Quote for 3" Composite Floor Deck from D-MAC Industries
If you need composite floor deck for your project, contact the specialists at D-MAC Industries. Rest assured, our team of experts in the industry will exceed your expectations and handle all your needs. We have locations across the nation and can get you the products you need when you need them the most. We offer prompt, reliable deliveries and have experts in the field that are ready to answer all your questions. We'll work with you on your project's specific timeliness including delivery schedule, job site accessibility, and more. Get in touch with us today by chatting online or calling us one of our specialists. We look forward to serving you!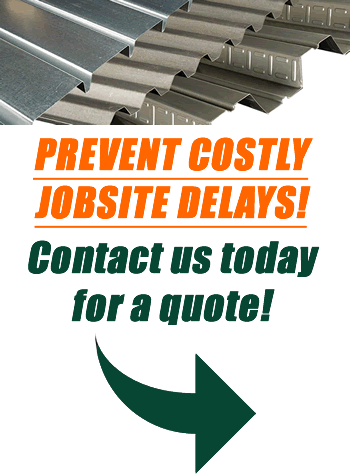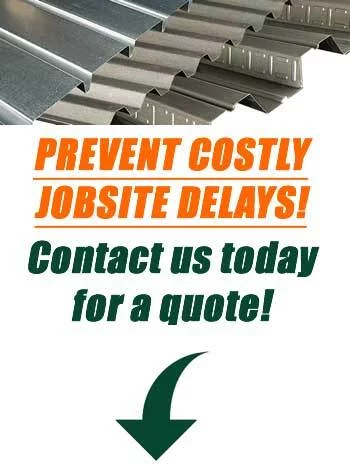 "*" indicates required fields