0.6C
0.6FD
CF 1/2
S
SF
TF50
UFS
Cover Widths

Height (Min.)

Pitch (Rib Spacing – Center to Center)

30 in
35 in
9/16 in
2 1/2 in
9/16" Form Deck
Form decks have been known for their lightweight and high strength-to-weight ratio, making them a durable and attractive flooring solution. 9/16" form deck is used extensively in floor construction as an economical form to support concrete slabs during construction. This metal form deck is used to serve as a permanent steel base for poured concrete. The advantage to using a form deck is that it eliminates the time and cost of wood forming making it a quick, easy, and affordable solution.
D-MAC Industries provides high quality 9/16" form deck to over 30 locations across the United States. We help engineers, contractors, builders, and architects get the form deck they need fast so projects can stay on time and on budget. Learn more about the applications and specifications of our 9/16" form deck and contact us for a quick quote.
Ideal Applications for 9/16" Form Deck
This type of form deck requires less concrete but spans shorter distances than deeper form decking. Since this form is lighter weight, it is ideal for small spans and residential applications. The 9/16" form deck is used for standard duty projects and provides a strong foundation for forming slabs while giving lateral stability to structural members.
DMAC Industries offers a 9/16" form deck in a variety of gauges including 28, 26, 24, and 22, and all are available in a durable galvanized finish. Form deck should always be galvanized when used as a support for lightweight insulating concrete fill and is ideal for high moisture environments. The 9/16" form deck is available in a 30-inch or 35-inch cover width and features a rib spacing of 2 ½" inches from center to center.
Not sure if your project requires a 9/16" metal form deck? Identify your existing non-composite floor deck online with our helpful guide or allow our team to assist you.
9/16" Form deck Installation
We always recommend that the form deck be installed by qualified and experienced workers for a safe and effective application.
This metal form deck can be used in a variety of ways, as it does not have the same design or profile constraints as other form decks. The steel framing works well independently or in combination with other structural systems.
Form deck should always be placed in accordance with approved erection drawings. Each form deck unit shall be placed on supporting steel framework and adjusted to final positions before permanently fastened. An unfastened deck should never be used as a working platform or storage area.
If your project requires cutting of openings through the deck, cutting should be performed in the field. Openings should be cut and reinforced if necessary in accordance with the Steel Decking Institute.
All Form Decks Are Certified for Quality Assurance
At D-MAC Industries, we hold fast to strict quality guidelines. Our production staff have high attention to detail to ensure each of our customers receives the highest quality 9/16" form deck.
D-MAC Industries certifies that our form deck is in accordance with the applicable SDI standards and property values for the Uniform Load tables. Each form deck, including our 9/16" form deck, meets or exceeds SDI requirements for engineering, design, manufacturing, and usage of form decks.
Protecting & Storing your 9/16" Form Deck
Our metal form deck is intended for structural purposes and indoor use. Galvanized products that are stored outside may have oxidized over time, however, this will not affect the structural integrity of the steel.
To protect your form deck from corrosion or damage, store the deck off the ground with one end elevated for drainage. You can protect your 9/16" form deck from condensation and moisture with a waterproof covering. We always recommend keeping your form deck away from snow and ice as this can damage the galvanized finish. If you have any questions regarding the storage or handling of your form deck, our experienced team will be happy to help.
Find Accessories for your Form Deck Project
As your one-stop-shop for all your metal form deck needs, D-MAC Industries proudly supplies the accessories you need to complete the project. From supply end and side closures, pour stubs, rubber cell closures, and deck plates, we have it all. Allow our team of experienced professionals to help you find the accessories you need to get the job done.
Why Choose D-MAC Industries for 9/16" Form Deck
For over 70 years, D-MAC Industries has provided exceptional customer service and high-quality non-composite form decks across America. With over 30 locations, we provide the very best service along with reliable, prompt deliveries, guaranteed quality, and a large inventory of non-composite form decks.
We understand the significance of getting materials fast, so your project can stay on time and on budget. Fortunately, you can count on our team to provide cost-efficient designs, easy same-day delivery, and convenient pickups.
Our team has the experience you need to get your project done fast. We can help identify an existing form deck or choose a new form deck for your project along with the accessories you need for completion. Personal service by knowledge personnel is what sets us apart from other non-composite form deck providers.
As an American-owned and operated family business, we are devoted to creating local jobs, supporting local communities, and manufacturing high-quality products that adhere to the strictest quality guidelines. Allow us to demonstrate our ability to deliver the industry's highest quality, service, and customer satisfaction.
Contact D-MAC Industries for a Fast and Easy Quote on 9/16" Form Deck
With fast turnaround times, prompt deliveries, and impeccable service, it's easy to see why D-MAC Industries has built an impressive reputation over its 70 years in business. If you need a non-composite floor deck for your next project, contact the experienced professionals at D-MAC Industries. We are dedicated to ensuring our customers are completely satisfied and aim to keep your project on time and on budget. To request a quick and easy quote, use our online contact form or call us. We look forward to doing business with you!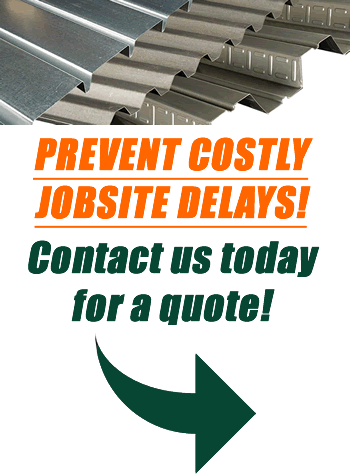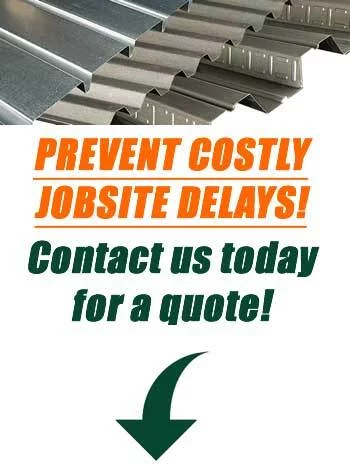 "*" indicates required fields