1.5 Inch Thick Composite Decking
1.5VL
1.5VLI
1.5 CD
B-LOK
CFD1.5
EC 150
SB150
Cover Width

Height (Min.)

Pitch (Rib Spacing – Center to Center)

36 in
1 1/2 in
6 in
1 ½" Composite Floor Deck
D-MAC Industries supplies high quality 1 ½" composite floor deck promptly delivered on the same day to your job site. 1 ½" composite floor deck is the narrowest of our composite floor deck option and requires less concrete than 2" composite floor deck or 3" composite floor deck. We recommend pouring 2" of concrete over the ribs of the deck for a total slab thickness of 3.5".
To best serve your needs, our composite floor decks are available in a variety of gauges and features a strong galvanized finish. Our 1 ½" composite floor deck is designed for nonresidential applications in low-rise, high-rise, and manufacturing sectors.
D-MAC Industries is the leading composite floor deck provider and serves over 20 states with our 30 locations. To get you the products you need, when you need them the most, we offer same day delivery! Make certain your project stays on time and on budget with the help from our team. Learn more about our 1 ½" composite floor deck and contact us to get a fast and easy quote.
1 ½" Composite Floor Deck Options
Our 1 ½" composite floor deck is available in a galvanized finish for superior strength. Galvanized composite floor decks are recommended for corrosive or high moisture environments and designed for a permanent application.
The 1 ½" composite floor deck covers 36 inches wide and features a 6-inch pitch. Once the concrete is poured over the composite steel floor, the embossments in the steel create a very strong and stiff floor system. If you have any questions regarding our 1 ½" composite floor deck's specifications, one of our experienced team members will be happy to assist you.
What is 1 ½" Composite Deck Used For?
This flooring system has a dual purpose and acts as a platform before and during concrete placement, eliminating pricy wood forms, and used as positive reinforcement for the concrete slabs, eliminating the need for rebar in most cases. Sometimes referred to as metal deck, this product is typically used for multiple floors in commercial buildings, bridges, porches, parking garages, storage facilities, and more.
1 ½" Composite Floor Deck is designed to be used as a floor deck where concrete is poured on top of the deck. This deck has indentations and embossments, which allow for better bonding between concrete and deck. These embossments will grip the concrete slab and reinforce it for a strong bond and are designed to interlock.
Composite floor deck provides positive reinforcement while eliminating the time and cost of wood forming, making it incredibly durable and efficient. Furthermore, unlike conventional slabs, the combination of composite and concrete creates a stronger and lighter application. The composite steel deck slab is used to act as a support structure for the concrete's entire life.
Find the Composite Floor Deck for your Project
Along with offering 1 ½" composite floor deck, we have 2" and 3" composite floor deck, so you can find the materials that meet your needs. If you are not sure which composite deck you need for your project, our team of specialists will be happy to assist you. The type of deck you'll need for your project will likely rely on the depth of the slab, weight of the concrete, and the support of the spacing. We also have an easy to use D-MAC Fabricator Magnet, so you can easily identify your steel deck with images and common manufacturer designations.
Getting your composite deck identifier tool from us is easy. Fill out your information and we will send it to you free of charge! Or, if you need immediate assistance, get in touch with our team today.
Why Choose D-MAC Industries for 1 ½" Composite Floor Deck
When you need quality floor deck products for your project, turn to the best at D-MAC Industries. We can handle all your needs. We will work with you on the specifics of your order, including timeline requirements, ensuring you get the metal deck products you need in a timely manner.
For your peace of mind, D-MAC Industries only supplies products certified by SDI members. We ensure that each floor deck products meets the strict standards for engineering, design, manufacturing, and usage of steel decks. We stand behind our high-quality products and are proud to help engineers, general contractors, architects, and builders with all their project needs.
With over 30 years of experience, D-MAC Industries is the premier metal decking supplier in the nation. You can depend on our team to provide cost-efficient designs, easy delivery, and convenient pickups. Our family-owned and operated business is hyper-focused on providing the very best in customer experience, which is how we have built a remarkable reputation over the years. Rest assured, we will go above and beyond to fulfill your composite deck needs.
Get a Quick Quote for 1 ½" Composite Deck from D-MAC Industries
If you are in need of 1 ½" composite floor deck, contact the decking experts at D-MAC Industries. With over 30 locations across the nation, we offer reliable deliveries and prompt service. Allow us to help you find the composite floor deck that meets your project's specifications and answer all your questions. Get in touch with us today by chatting online or calling one of our specialists. We look forward to serving you!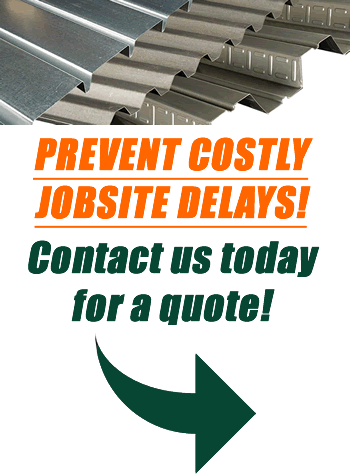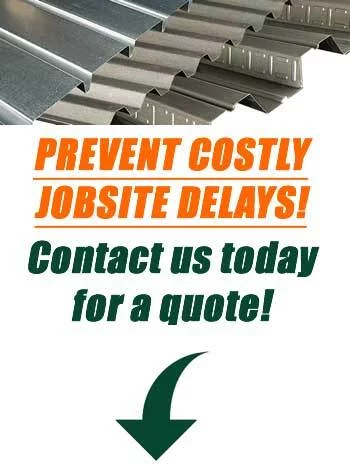 "*" indicates required fields