2 Inch Thick Composite Decking
COMPOSITE FLOOR DECK PRODUCT INFO
2VLI
2.0 CD
CFD2
2″ LOK Floor
SB200
Cover Width

Height (Min.)

Pitch (Rib Spacing – Center to Center)

36 in
2 in
12 in
2" Composite Floor Deck
Our 2" composite floor deck has a 2" deep profile and is designed to provide a deeper concrete pour.
To accommodate your project's unique needs, our composite floor decks are available in a variety of gauges and features a durable galvanized finish, which is ideal for projects that require greater corrosion protection during construction. Our 2" composite floor deck is designed for a variety of private and public nonresidential applications, including low-rise, high-rise, and manufacturing sectors.
When you need a composite floor deck provider, you want to work with the best professionals who can meet and handle all your needs. D-MAC Industries is proud to help builders, contractors, and architects find the 2" composite floor deck that meets their needs. With over 30 same day steel deck locations, you can get avoid costly job delays. Make sure your project stays on time and on budget with the help from the experts at D-MAC Industries. Learn more about our 2" composite floor decks and get in touch with us for a prompt and easy quote. We look forward to serving you!
What is Composite Steel Floor Deck Used For?
Composite floor deck is used to produce a range of structurally sound and efficient flooring system and used in an array of applications. Once the concrete is placed under the composite floor deck, the steel acts as a support structure for the concrete's entire life. These products are used by architects, contractors, and builders to create a floor that consists of concrete and metal decking. The metal floor decking acts as a long-lasting and durable framework for the concrete.
Our 2" composite metal floor decking can be used in a number of private and public-sector projects including commercial buildings, industrial buildings, hospitals, stadiums, car parks, and more. Composite floor deck eliminates the time and cost of wood forming, making it incredibly durable and efficient. Plus, since it is made of steel, rather than wood, in the case of the fire, the steel prevents cracking and safeguards against degradation.
Options for 2" Composite Floor Deck Design
At D-MAC Industries, our 2" composite floor deck is available in a strong, durable galvanized finish, and a variety of gauges including 16, 18, 20, and 22. The galvanized finish is used for superior strength and rigidity and is highly recommended for use in corrosive or high moisture environments. This ensures a permanent application.
Our 2" composite floor decks are available in either a 24" or 36" cover width, so you can find the composite steel deck that meets your specifications. The 2" composite floor deck has a pitch of 12 inches from center to center.
Each of our composite floor decks, including our 2" composite floor decks, meet the standards set in place by the Steel Deck Institute. Since 1939, the Steel Deck Institute has provided uniform industry standards for the engineering, design, manufacture, and field usage of steel decks. The 2" composite floor deck is equivalent to the following brand/company designations:
2″ LOK Floor
0 CD
2VLI
CFD2
SB200
Why Choose D-MAC Industries for 2" Composite Steel Deck?
D-MAC Industries has been in the business for over 30 years, helping building owners, architects, and general contractors get the composite steel deck they need quickly.
Along with our reliable, durable composite floor deck products, we provide our customers with a world-class customer service experience. We are committing to maintaining a high level of quality from our sales to delivery and everything in between.
Our experienced staff has years of experience in deck products for floors and can guide you through the process and answer all your questions. Rest assured, our personalized one-on-one service is what sets us apart from other composite floor deck providers. You're in good hands when you work with you D-MAC Industries!
How Can I Find the Right Composite Deck Dimensions for My Project?
Not sure if the 2" composite floor deck is right for you? Allow our team of experts to assist you! Along with our 2" composite floor deck, we have 1 ½" composite floor deck and 3" composite floor deck products.
The type of deck your project will require will rely on the depth of the slab, weight of the concrete, the uniform load you are looking to support, and the support of the spacing. In addition to reaching out to the team at D-MAC Industries, we have an easy to use D-MAC Fabricator Magnet, which allows you to effortless identify any existing steel deck with images and common manufacturer designations.
To get our composite floor deck, simply fill out our form with your information and we will send it to you free of charge. For immediate assistance, contact our team.
Contact D-MAC Industries for a Quick Quote on 2" Composite Floor Deck
Looking for the best composite floor deck provider? Allow the team at D-MAC Industries to assist you! As experts in our industry, we are proud to be the premier composite floor deck provider in the nation. You can rely on our team to provide easy deliveries and convenient pickups, so your project can stay on track, on time, and on budget. Our family-owned and operated business provides you with the very best in customer service, which is how we have built an impressive reputation over the years.
Allow us to help you find the composite floor deck that meets your project's specifications and answer all your questions. With over 30 locations in the United States, chances are good we have one near you! Get in touch with us today by chatting online or calling one of our specialists. We look forward to serving you!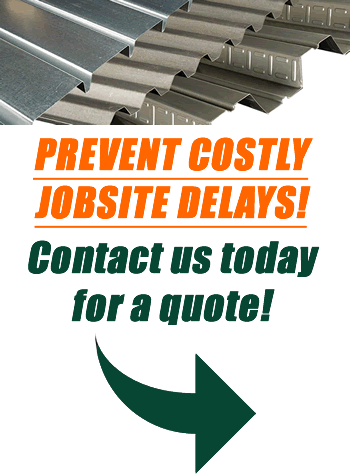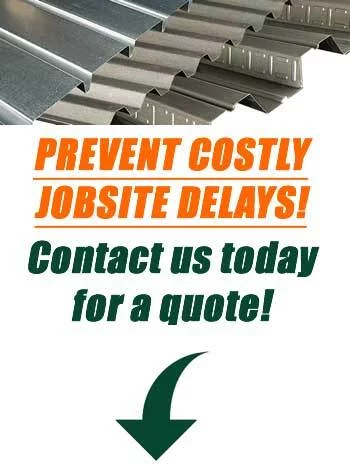 "*" indicates required fields