1.0C
1.0FD
CF 7/8
HD
HF
TF75
UFIX
Cover Widths

Height (Min.)

Pitch (Rib Spacing – Center to Center)

36 in
15/16 in
4 in
15/16" Form Deck
Non-composite form deck is used in instances where steel or concrete composite is not required. Often used in floors and stairways, the 15/16" form deck is ideal for heavy-duty applications. The form deck provides a strong base for forming slabs and serves as a permanent steel base for concrete floor slabs. Contractors, engineers, and architects rely on D-MAC Industries 15/16" form deck for a quick, easy, and affordable solution.
D-MAC Industries is the premier non-composite form deck provider in the United States. With over 30 locations, we offer fast and reliable same-day deliveries and no-hassle pickups, so your project can stay on time and on budget. Our team is always going the extra mile for our customers, which is why so many builders, contractors, and engineers rely on us for the best customer service in the steel deck industry. Learn more about our 15/16" form deck, including its specifications and applications, then contact us for a quick and easy quote.  
15/16" Form Deck Specifications
The 15/16" form deck is a metal form deck that covers 36 inches and features a rib spacing of 4 inches. This non-composite form deck is available in 26, 24, 22, and 20 gauges and comes in a galvanized finish, the standard in the steel decking industry. The galvanized finish is ideal for high moisture environments and ensures a durable and permanent application. It is also used for roof deck systems where form deck is used to carry a lightweight insulating concrete member. Every form deck from D-MAC Industries is crafted in accordance with the Steel Decking Institute and held to the highest quality standards.
Form Deck Installation
Like all form deck products, the 15/16" form deck should be installed by qualified and experienced workers. We will ask the decking contractor to approve all shop drawings prior to installation and decking should be installed in accordance with approved erection drawings.
The SDI (Steel Decking Institute) recommends not applying sealants at the ends or side laps of the form deck as this may impair its intended structural purpose. Make sure that the deck is properly fastened to the support members such as open-web steel joists and beams to provide a workable platform.
When installing a 15/16" form deck, keep these safety tips in mind:
Make sure that hoisted loads are well balanced

Do not stand under loads being hoisted and always keep loads in view

Use proper hand signals to crane operators

Never use single span bundles as a working platform

Check that cutouts and openings are adequately supported and guarded

Wear eye protection near welding
Which Form Deck is Right for My Project?
At D-MAC Industries, we are always assisting our customers in finding the right form deck for their project. No matter if you are looking to match an existing form deck or need to find a new form deck, we will be happy to assist you. To find the non-composite form deck that suits your projects, you'll need to measure the cover width, rib spacing, and height of the form deck. Use our online guide to quickly match an existing non-composite floor deck.
Handling and Storing 15/16" Form Deck
Form deck is banded into bundles that can weigh several thousand pounds. Each bundle is limited to a maximum of 4,000 pounds for the deck to be applied to joists. It's important to protect the 15/16" form deck from corrosion and damage during storage and handling. When storing the form deck, elevate one end to provide drainage. Protect bundles of form deck against condensation and moisture with a ventilated waterproof covering and keep form deck protected from snow and salt.
Decks should be stored in bundles off the ground and should always be secured by bundle straps or banding to prevent damage. Tightness should be periodically checked, and additional securement should be used as needed. Under no circumstances should bundles be placed on unbolted frames or unattached or unbridged joists in accordance with the Steel Deck Institute.
If galvanized products are stored outside you may notice some oxidation on the surface. This does not affect the structural integrity of the steel, however, if your application requires decorative use, it's important to take precautions to prevent oxidation. Our team can help make recommendations to prevent the form deck from oxidizing to maintain its aesthetically pleasing appearance.
The D-MAC Industries Advantage
D-MAC Industries is a family-owned and operated business that provides an exceptional customer experience. We understand your unique needs and can answer any questions you may have regarding the form deck and accessories (such as pour stops or ridge and valley plates) needed to complete your project. At D-MAC Industries, we make it our mission to provide you with the best quality, while helping you save time and money without sacrificing quality.
We offer quick shipment of form deck, prompt deliveries, and no-hassle pickups, so you can get the products you need fast. Our experienced team has 30 to 40 years in the steel decking industry and is ready and available to assist you!
As your one-stop-shop, we offer a variety of form deck accessories such as pour stops, end closures, sump pans, and welding washers. Not sure which form deck accessories you need? Allow our professionals to assist you. With D-MAC Industries, you can get all the floor deck products and accessories you need in a timely manner.
Contact D-MAC Industries for a Fast and Easy Quote on 15/16" Form Deck
At D-MAC Industries, prompt lead times are our specialty. Our 15/16" form deck is quoted and shipped the same day. Our production staff pays the utmost attention to detail, so your form deck is delivered perfectly to your specifications. No matter where your job is, D-MAC will provide the fastest delivery or most convenient pick-up.
Get in touch with a friendly and knowledgeable expert at D-MAC Industries for your form deck needs. You'll see why so many engineers, builders, and architects choose D-MAC Industries for their steel deck needs. Contact our team using our convenient online form or give us a call. We look forward to working with you!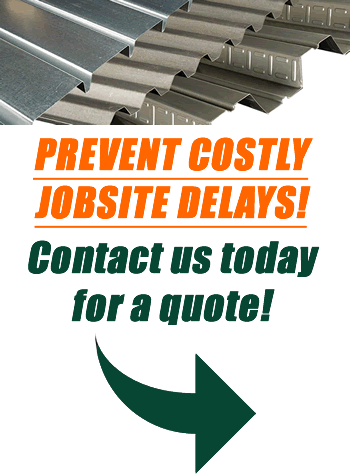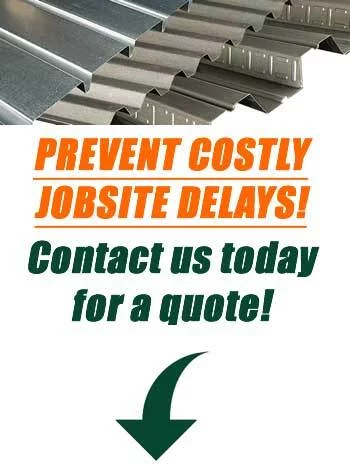 "*" indicates required fields