1.5″ x 1″
2″ x 1″
3″ x 1″
In order to ensure your floor deck project goes smoothly, you need the right steel floor deck accessories. Fortunately, D-MAC Industries is your source for both roof deck and accessories.
One of the most essential floor deck accessories is an end closure. An end closure, also known as a cell closure, is fastened to the end or flutes of the metal deck. The end closure prevents the pour of wet concrete from rolling inside the end flutes and down the area below. End closures are a vital component of metal deck installation and make concrete pours quicker and cleaner.
Learn why end closures are an important part of metal floor deck installation and contact D-MAC Industries to learn more about your end closure options and steel deck accessories.
Why Are End Closures Important?
End closures are one of our most sought-after floor deck accessories. The end closure will close off the open ends of the metal floor deck, preventing concrete spilling through ends of the metal deck. Along with being a cost-effective and efficient solution, this accessory will keep your job site neat and clean!
End Closure Options at D-MAC Industries
At D-MAC Industries, we have a wide variety of end closures options to meet your project's needs. Our end closures are available for use with 1.5" floor deck, 2" floor deck, and 3" deep floor deck sections.
If you're not sure which size end closure to order, our specialists will be happy to assist you.  We pride ourselves in offering customers a personalized experience!
Other Metal Deck Accessories from D-Mac Industries
At D-MAC Industries we have everything you need to complete your deck projects. In addition to end closures, we offer many standard and special deck accessories including ridge/valley plates, pour stops, column closures, Z closures, and more. For your convenience, we can produce a wide variety of roof and floor deck accessories in all gauges.
Our high-quality end closure and other floor deck accessories are used to help you get the job done quickly and efficiently. Rest assured, all our roof deck accessories and floor deck accessories are designed to meet the requirements for steel deck certification specifications set by the Steel Deck Institute.
Same Day Steel Deck and Accessories
From steel roof decks to form decks and composite decks, D-MAC Industries provides convenient same day roof and floor decks to contractors across the nation. Our roof and floor steel deck products are available in varying widths, finishes, and gauges to meet your needs. For example, we offer four different form decks, which are ideal for situations where a composite design is not required, three different composite floor deck products with varying spanning and loading capabilities, as well as four of the most sought-after steel roof decks.
If you need help choosing the right form deck product for your project, our experienced staff will be happy to assist you.
Why Choose D-Mac Industries for End Closures & Floor Deck Accessories
What sets us apart from other steel deck suppliers is our short lead times and fast deliveries. We recognize that your project may require steel decks for roofs and floors fast in order to stay on time and on budget. With our convenient same-day delivery, you'll have quality products at your job site fast, so you can get back to focusing on the needs of your project. In fact, when you request a quote from us, most of our orders are either picked up or shipped that very same day!
For over 30 years, we've helped architects, engineers, and contractors complete their project in a timely, efficient manner. Each of our 30 locations across the country has a large inventory of roof deck and floor deck. You can count on D-MAC Industries to go above and beyond to fulfill all your floor and roof deck needs in a fast and timely manner.
Speak to a D-MAC Industries Expert about End Closures & Floor Deck Accessories
As your single-source provider for steel deck and accessories, D-MAC Industries has all the materials you need to complete your job. Along with our high-quality end closures, we have filler and finish strips, pour stops, and more.
Whether you are a roofing contractor, structural fabricator, or general contractor, we're happy to provide you with superior service and high-quality steel products and accessories. Call us or fill out our contact form to get a fast and easy quote.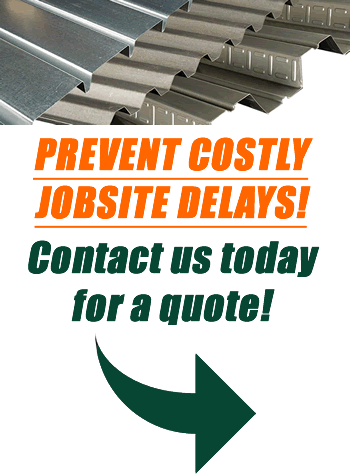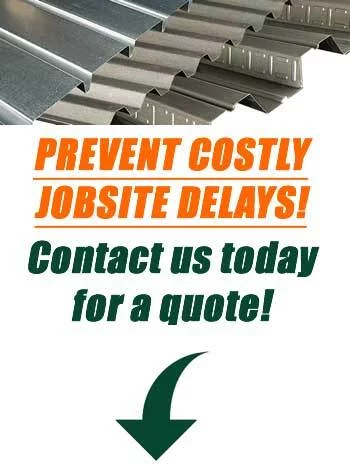 "*" indicates required fields